There's been a dramatic collapse in commodities since the April/May timeframe.  The grains have gotten absolutely crushed.  Corn, wheat, and soybeans all were looking promising earlier in the year and then they got taken to the woodshed.  Copper has followed the opposite path, slammed early in the year, then recovered nicely even with the dollar rallying.  Coffee had a massive rally early in the year and has been consolidating since then.  Sugar and cotton have both been crushed since April.  Precious metals have had a volatile 2014, with two strong rallies and two grinding declines.
If you take a look at a daily chart of the CCI index you see a clean 5 wave down structure with positive divergence in momentum in the 5th wave.  That typically happens when a market gets exhausted and starts to reach a bottom.  Notice how the negative divergence in momentum helped forecast the decline.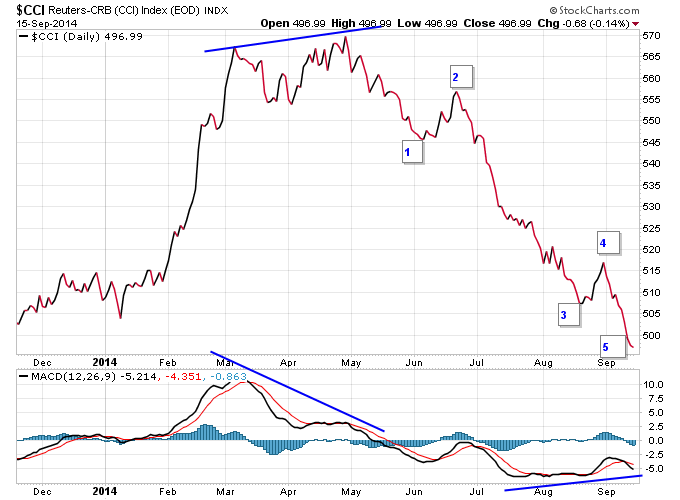 On a weekly chart commodities look like they might be breaking support here and headed for a steep decline.  But the problem with that scenario is they are already deep in a 5 month decline heading into this support break.  Typically you would at least see a bounce before that support gives way and that's what I think we could be in for here.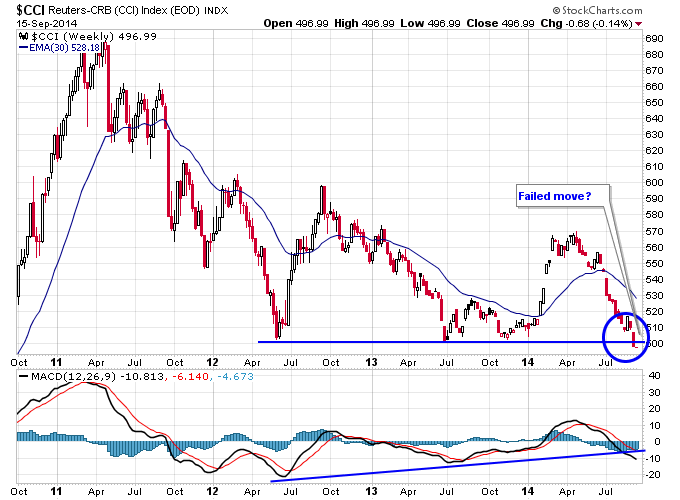 Longer term I think commodities offer an interesting play here.  The sector is destroyed, sentiment is terrible, and after a 3+ year bear market no one wants to touch any of this.  So I'd look for a failed support break here as a good long entry back into this sector.  If the CCI can close back  above 500 and hold that as support things get interesting for the bulls.  However if it can't hold 500 the bears continue to win and bulls have to wait a while longer.  The first target I'd look for to the bear side is 440.