Leadership has narrowed in the stock market, which usually isn't a good sign for the overall health of the market.  However certain sectors like Health Care keep powering higher.  XLV and IBB both made new 52-week highs today.
Another pocket of strength in this market is what I'm going to dub the "Selfie Bull Market".  For the initial Selfie Index I'm going to include 4 stocks: GoPro, Ambarella, Facebook, and Google.  Apple being the other major phone maker could also be included but Apple isn't as much about selfies as these other 4 stocks.  GoPro cameras help you take your selfies, Ambarella provides camera technology that powers a GoPro, and Facebook and YouTube (Google) is where you post your selfies for everyone to see.
GoPro is the newest IPO of these stocks, followed by Ambarella, then Facebook and Google.  All 4 stocks have solid chart patterns.  Taking a look at GoPro below you can notice the volume coming into the stock is still quite strong compared to its entire trading history (which isn't that long).  GoPro initiall shot up after the IPO, then based for a couple of months before resuming the uptrend on volume once again.  I'm not a huge fan of buying IPOs this early because they tend to go up quickly, then stall out for a long time.  But GoPro could probably be owned as long as it remains above its 50 day moving average.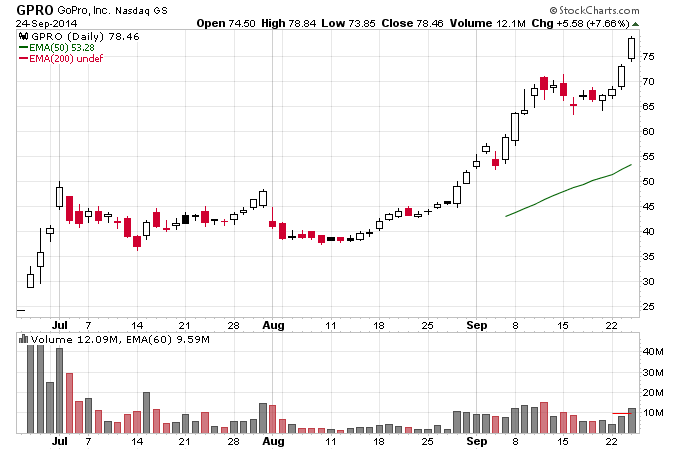 Ambarella has based for most of this year, then broke out on volume recently.  This chart looks solid to me you can see the clean retest of the breakout at 34 recently then it shot higher again.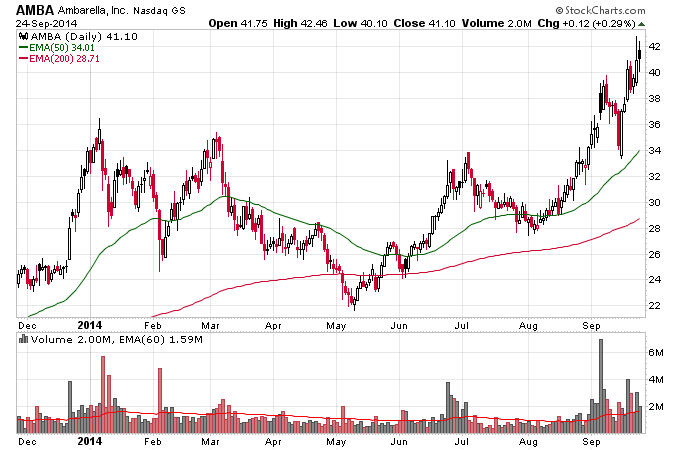 Facebook is still in a nice uptrend above the 50 day moving average.  It's one of the growth stocks in tech that is actually making new highs above its March 2014 highs.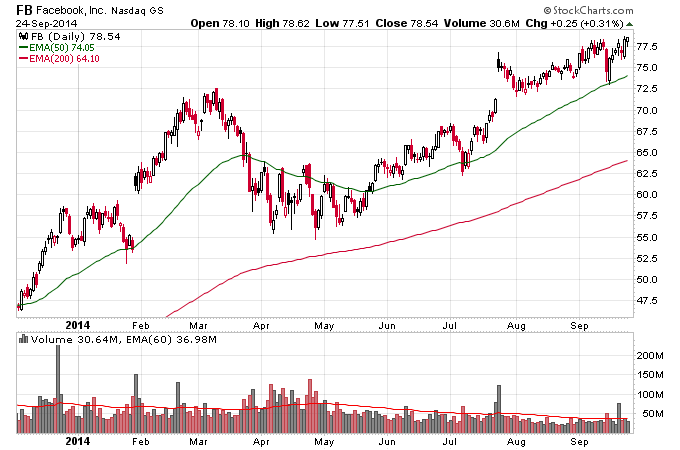 Google is still fighting to take out it's March 2014 high.  Google is the weakest looking stock of these four but should break out if tech stocks keep moving higher.