Gold still hasn't made a new low yet sentiment is about at rock bottom.  As a contrarian that gets me interested.  Here are some things we know about the current gold market:
1) Commitment of Traders report is out tomorrow and should show further reduction in shorting by the Commercial Hedgers, and possibly a net short position by small speculators.  That is a bullish sign.
2) Sentiment is awful, Mark Hulbert just came out and said his gold timers index was at its 2nd lowest level of bullishness in 30 years.  That's simply amazing.
3) My own personal sentiment gauge is about as low as it gets.  People that I observe to normally be bullish are totally in despair and don't think there's much hope.  Bears on the other hand think they are in control and are writing blog posts about how bad gold and silver look.
From a technical standpoint there's a few things I like as well.  First take a look at the gold contract, I can't help but notice the huge upside volume today and the possibility of a reversal candle being put in.  Also we are talking about a long move to the downside here without much of a countertrend move, this has been going on since July.  The September decline was really driven by the surge in the U.S. dollar, if that just stops and the dollar moves sideways gold might have room for a big relief rally.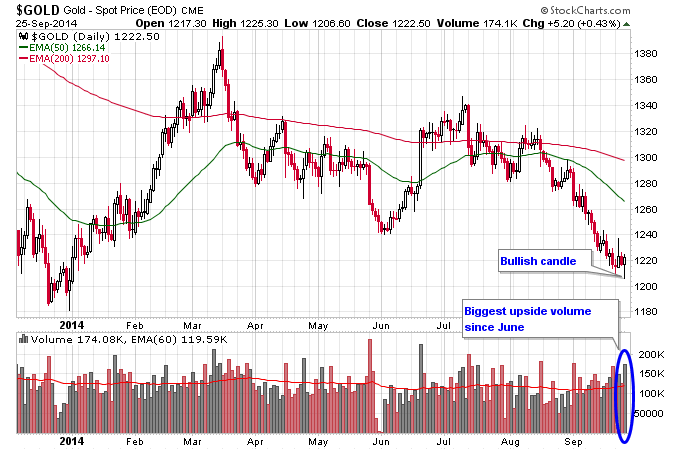 Secondly the miners are still not acting that bad.  Some of them got hit hard on this dollar rally but they still are making higher highs and higher lows against gold.  I think this is all part of a long term bottoming process for the sector, take a look at the GDXJ to GLD ratio below.