Mark Cuban recently said he bought Netflix with his own money after the recent pummeling Netflix took after earnings.  I wouldn't buy Netflix with my own money, yet alone Mark Cuban's money, and here's 3 reasons why:
1.  Technicals
A high percentage of the time whenever you see a breakaway gap up, or down, on overwhelming volume then the trend after that gap is usually in the same direction.  These type of gaps mark significant changes for a stock that alter their trajectory, and rarely do they get filled quickly and reverse course.  So at a minimum this is probably reason enough to avoid Netflix for the time being as it is going to have to repair the damage from this gap down for a good amount of time before it has a chance of going higher.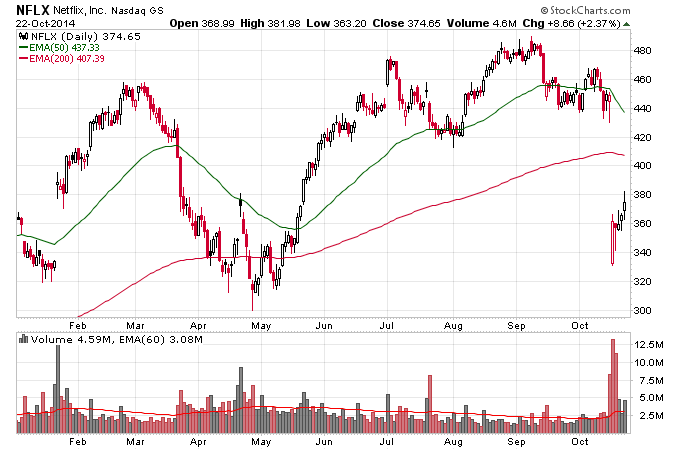 On a weekly basis Netflix is starting to enter a Stage 3 topping pattern and is significantly below it's 30 week moving average.  Given the fact it has gapped down so violently I would expect at minimum it retests the lows at 300 which provided former support.  Notice how Netflix has traded mostly sideways when compared against the S&P 500 this year, that was a warning sign that this growth stock was stalling out.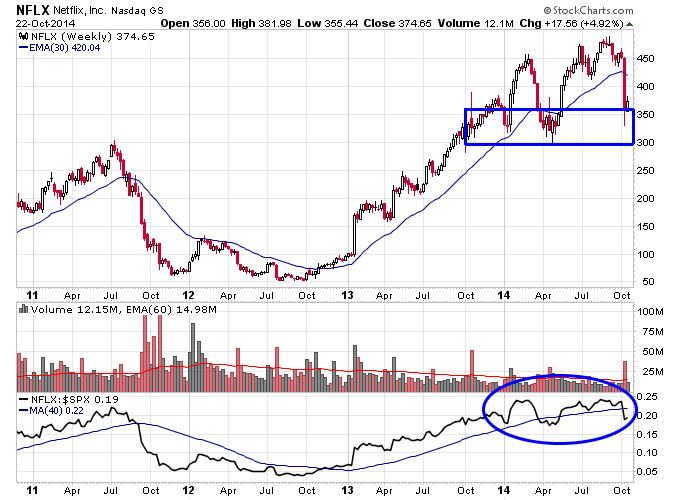 2.  Overall Market
If the overall market enters a bear market, which I think is a good possibility, then Netflix doesn't have a chance.  This is another simple fact that bulls would tend to ignore.  A growth stock like Netflix only does well when the general market is in a bull market and speculative money flows into expensive growth stocks.  When the opposite occurs and the market transitions into a bear market and gets defensive, money flows out of stocks like this and often they get crushed quickly, which is exactly what happened to Netflix.  We've seen other growth stocks getting crushed lately too which isn't a good sign for this bull market.
3.  Fundamentals
Netflix is an expensive stock.  As I previously stated the time to buy expensive stocks is during bull markets, not during bear markets.  If we don't get a bear market then this could be a buying opportunity in Netflix, but at a minimum it's not going anywhere for a while after that gap down.  Furthermore while I think the quality of the video stream is good from Netflix, once you watch whatever TV series you're interested in on Netflix it's just not a product to get excited about.  Most people I know have Netflix because it's cheap and it contains just enough programming at its price level to keep you interested.  But its movie selection is terrible in my opinion, and it's just not a service anyone is running out to get.  And with more content providers supplying streaming services soon it's going to become a tougher space for them to compete in.