Richmont Mines is in a textbook, beautfiful Stage 2 breakout.  First it broke out of the base on huge volume, then retested the base during the October gold stock washout.  It held up extremely well during the washout, which was a sign that it would be a leading stock once that extreme selling ended.  And right on cue it broke out again on huge volume.  Textbook action the way it retested the Stage 1 base and 30-week moving average again after the breakout before surging higher.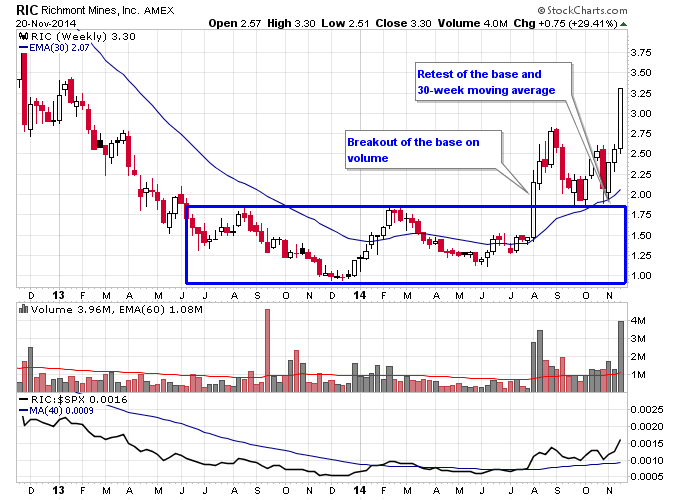 The second chart that greatly interests me is of Franco-Nevada (FNV).  FNV has made 4 higher lows now during each of the 4 major buy points in mining stocks over the last year (June 2013, December 2013, June 2014, October 2014).  This is incredible action and I've been saying for a while is an indication the gold bear market is getting late in the tooth.  Furthermore I think FNV is now setting up for a monster breakout out of this cup formation that it has created over the past couple years.  What's also very noteworthy is how quickly it has recaptured the October panic lows.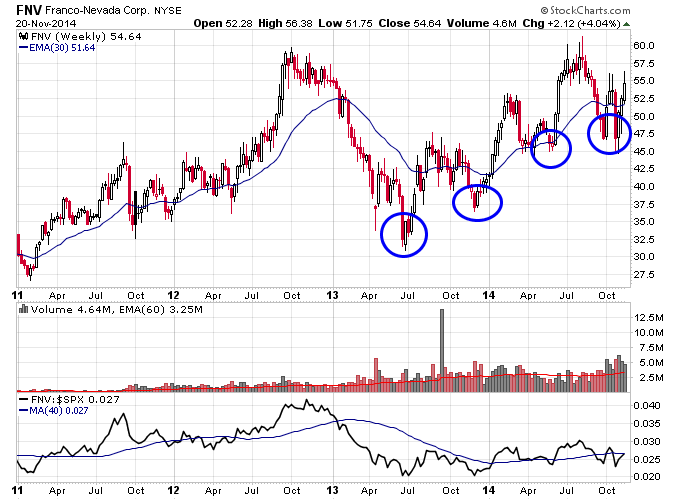 Quite a few other gold stocks have already recaptured all of their October panic levels and then some.  These include SLW, RGLD, AUQ, XRA, NSU, and GFI.
I continue to hear comments that the commodity supercycle is over which is ironic because I didn't hear that kind of sentiment when commodities topped in 2011.  Bullishness at the top, bearishness at the bottom, a cycle that will probably never end but will offer incredible opportunities for contrarians.