Last Sunday I launched a new series where I'm posting about real trades.  Tonight I'm going to discuss COHU, a stock I purchased more of today.  I bought my first position in COHU when it gapped higher on huge volume last Monday.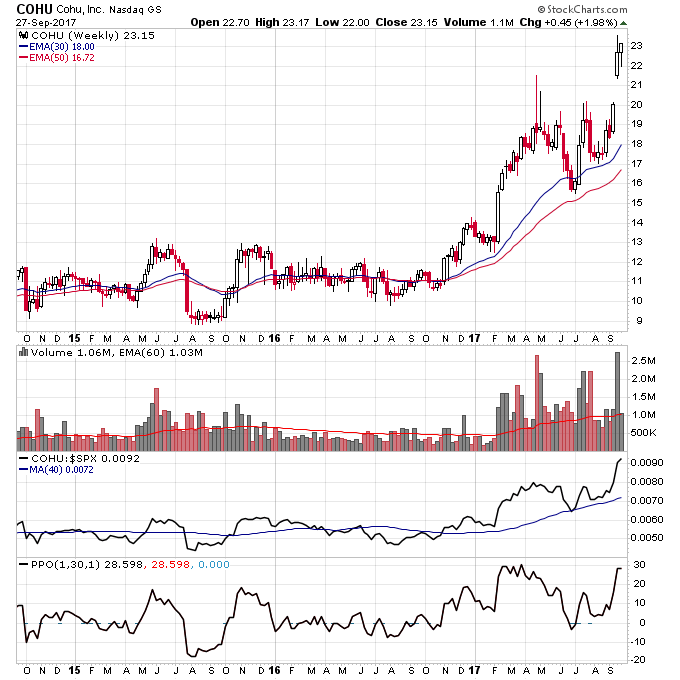 Like a lot of semiconductor stocks COHU established a trading range over the summer.  When COHU gapped higher on massive volume it offered a great entry point because the gap provides a great way to manage risk.  From now on there is no reason COHU should go below $20 since it was in heavy demand on the gap higher above $20.  So if it does go below $20 there is something seriously wrong with the stock and you should get out.
I use the 30-week moving average as my risk management line.  Strong stocks in a Stage 2 uptrend tend to respect this moving average and only retest it briefly before resuming their advance higher.  That's why it provides a good way to manage risk since we shouldn't see much price action, if any, below this line.  That's also why I use the PPO on the chart because that tells me the percent the stock is above the 30-week moving average.  Ideally I want that percent to be as low as possible, under 20 percent is generally what I look for.
With COHU though I can manage risk now above the moving average and use $20 as my stop since it should respect the gap higher.  And at $23 it's still only 15% above $20 which is an acceptable risk for my system.
The semiconductor sector continues to act well with many names taking volume and making new 52-week highs.  DAIO made a new high today and NVMI is close to breaking out.  In general there's a lot of positive price action across different sectors, on the Stage Analysis Screener there are now over 500 stocks moving into Stage 2.  I'm not sure if I've seen the number that high all year.
Remember managing risk is the most important aspect of trading.  Heed the wisdom of Jesse Livermore:
"The only thing to do when a person is wrong is to be right, by ceasing to be wrong. Cut your losses quickly, without hesitation. Don't waste time. When a stock moves below a mental-stop, sell it immediately."
Checkout my new Stage Analysis Screening Tool at: http://screener.nextbigtrade.com
Twitter: @nextbigtrade
The original article and much more can be found at: http://www.nextbigtrade.com
The views and opinions expressed are for informational purposes only, and should not be considered as investment advice. Please see the disclaimer.