TEAM absolutely soared after earnings on Friday up 24.7% on the day on massive volume of over 7 million shares.  Average daily volume was running at about a million shares so that is 7x the average.  That is around 300 million dollars of stock trading hands which likely means that big institutions are loading up on the stock.
I increased my position size in TEAM after earnings were out.  I put two orders to buy more shares of TEAM below 45, where it was trading around after hours on Thursday, and was lucky enough to get filled on both orders at the start of trading Friday.  I also bought one more lot of shares in TEAM at the close on Friday since it was not giving back any gains for the day.
TEAM is now up almost 30% since I added it as an RTR position on 10/8.  This stock is exhibiting all the characteristics you want to see for a Stage 2 stock that can make big gains:
Leading stock in a leading sector (enterprise software)
Outperforming the S&P 500 while the S&P 500 is in an uptrend
Under accumulation by the institutions
No overhead resistance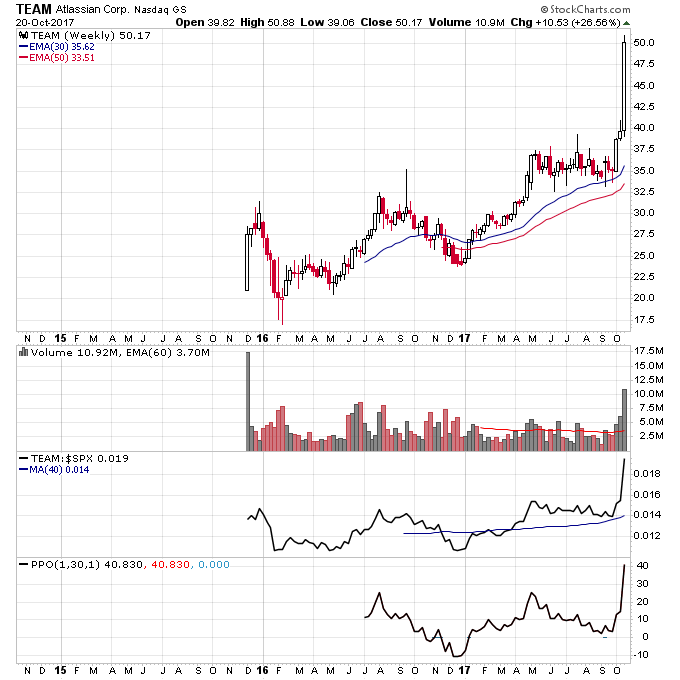 Depending how TEAM trades from here I may take some partial profits if it gets too extended from the 30-week MA, but I will definitely be holding shares for a longer term move higher.
Checkout my new Stage Analysis Screening Tool at: http://screener.nextbigtrade.com
Checkout my trading videos on Youtube
Twitter: @nextbigtrade
The original article and much more can be found at: http://www.nextbigtrade.com
The views and opinions expressed are for informational purposes only, and should not be considered as investment advice. Please see the disclaimer.