A few weeks ago I discussed silver breaking back above 30 after having a down month in January. I showed how in the past when silver rallies it tends to run hard without looking back, and when the rallies are over comes a big decline followed by a long drawn out consolidation. Since breaking above 30 silver has ran all the way to 36, but had a mild pullback today along with the big down day in the rest of the market.
The chart below shows the current upleg in silver with an 8 and 21 day exponential moving average. Notice how silver tends to trend right above the 8 day ema when it's moving up strongly, and when it has pulled back, it has found support at the 21 day ema. Only during the January correction did silver puncture both moving averages.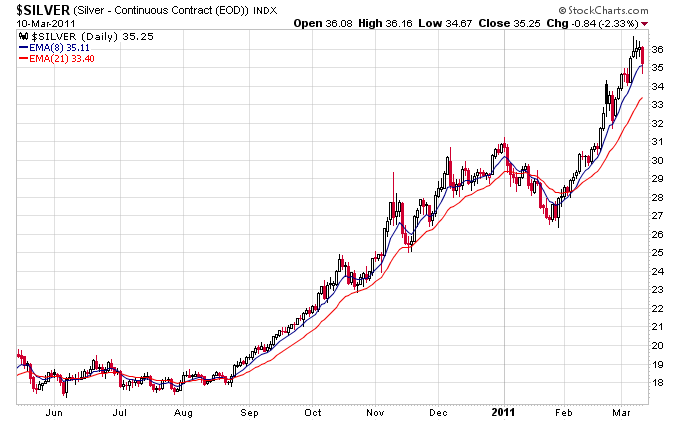 Comparing this bull move in silver to the 3 previous major uplegs in silver, it's quite noticeable that this upleg is still not close to hitting the overbought readings that the 3 previous major uplegs achieved. The weekly RSI on silver was able to get above 80 on all 3 previous uplegs, and close to 90 on 2 of them. The Bollinger Bands shown below were able to get to a level of 1.5 during each of the 3 former uplegs, but are only sitting at 1.17 currently. So the point is even after the sizable rally we've had, silver still hasn't reached overbought extremes it hit in the past.