Uranium Miners Selloff Continues On Japan Fears
With the tragedy in Japan still unfolding uranium miners took a major hit after they had already gone through a significant selloff before the earthquake occurred. For the uranium market, this is truly a black swan event as it was completely unpredicted, but will most likely have a major impact going forward. Uranium miners were formerly in bullish uptrends, but investors hate uncertainty, and they were sold off hard today. Two of the largest U.S. uranium miners, Cameco and Denison, are shown below. Notice how they both gapped down below their 30-week moving averages today.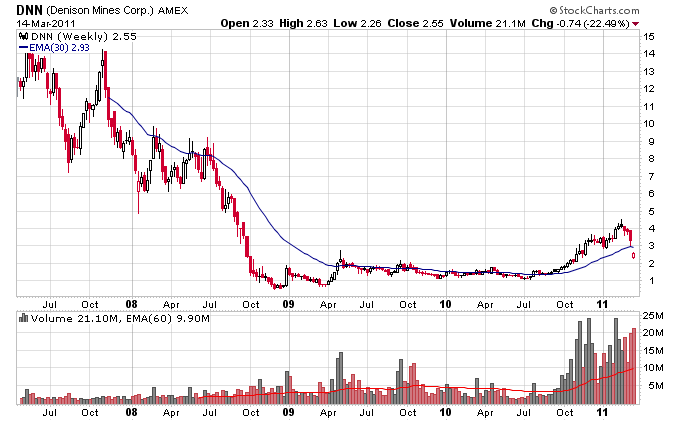 With the heavy technical damage done to their formerly bullish chart patterns, both CCJ and DNN will likely have to go through a period of repair on the charts before some type of trend can resume. Of course it will be up to a combination of government leaders and uranium industry experts as to the path the nuclear industry takes going forward. One thing is certain this black swan event will be studied not only in the near future but likely for generations to come.
Share and Enjoy