Coal stocks continue to steadily emerge from a brutal bear market over the past 2 years.  Last week the coal ETF KOL broke above its 30-week moving average for the first time since early 2012.  As you can see on the chart below KOL has been declining below this moving average in a Stage 4 decline since August 2011.  If KOL can continue to move higher above the 30-week moving average it will transition into a Stage 2 uptrend.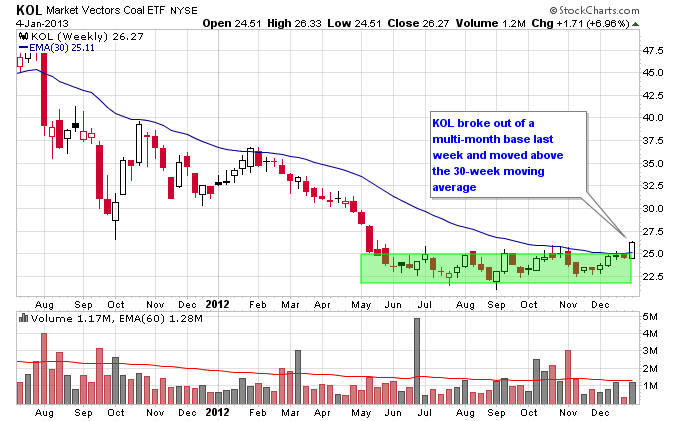 Looking at a daily chart of KOL a couple of things stand out.  First, the RSI has consistently stayed above 40 since September, even during pullbacks.  This is typically the sign of an emerging uptrend since KOL is failing to get too oversold when it pulls back.  Next the action in October was encouraging as volume started to increase as KOL started to approach resistance around the 25-26 area.  Things changed quickly though after the re-election of President Obama, which was perceived to be a negative for the coal market.  A wave of selling hit the coal sector right after the election and caused a big gap down in KOL.  It continued to sell down to about 23, but instead of continuing lower found support there that has held since June 2012.  Then KOL started to move higher once again in December.   KOL gapped higher to start 2013 and each of the 3 trading days in 2013 have seen above average volume, which is a good sign for a breakout.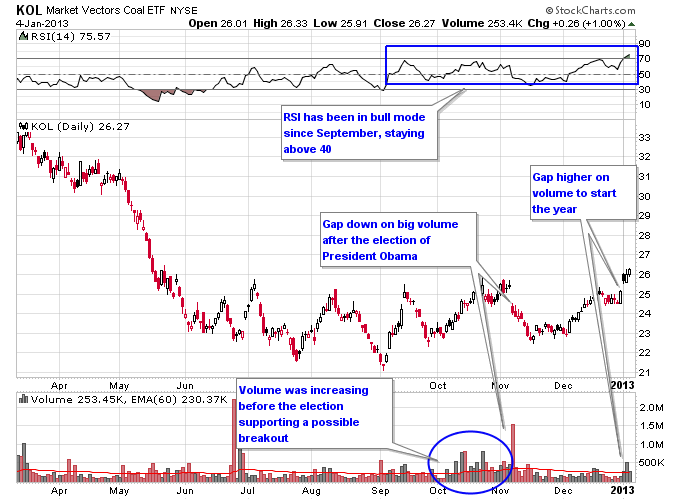 Next let's look at some individual coal stocks.  Most coal stocks are lacking one key ingredient for a breakout, which is an increase in volume.  Just like the KOL ETF, individual coal stocks saw increasing volume in October, but have seen limited buying pressure since the gap down after the presidential election.  These stocks need to see buying pressure to overcome the gap down resistance and to transition into sustained uptrends.
BTU and ACI are two examples of coal stocks below their election gap downs.  Both have established a pattern of higher lows and have bullish RSI readings, but need volume to move past their gap down levels.
ANR has overcome its gap down from the election, and has seen a little more buying pressure than BTU and ACI.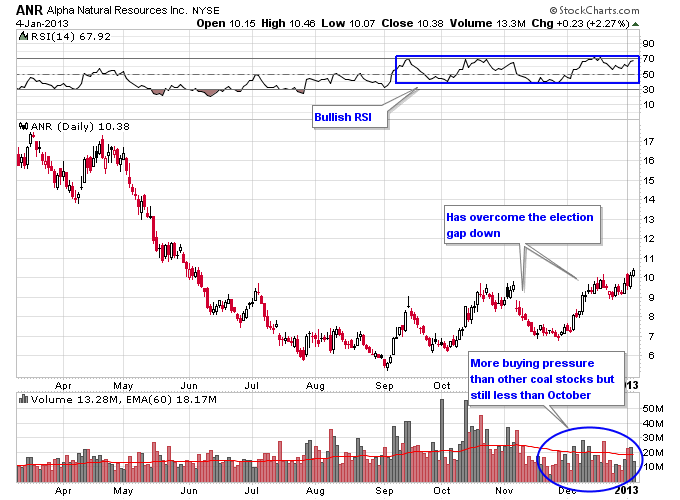 As 2012 came to a close and during the start of 2013 the market has seen some sectors that were crushed over the past 2 years move substantially higher.  This includes solar stocks, steel stocks, and some major commodity producers.  The coal sector looks poised to continue rallying but needs more volume to come into the sector, otherwise the chances of the rally continuing are diminished.  In particular watch how the sector trades as a whole as time moves forward.  The best scenario for a sustained uptrend would be to see increased volume across the board in individual coal stocks as well as the KOL ETF.
Disclosure: Long ANR
Connect with me on Twitter: @nextbigtrade
The original article and much more can be found at: http://www.nextbigtrade.com
The views and opinions expressed are for informational purposes only, and should not be considered as investment advice.  Please see the disclaimer.