The media is good at spreading fear in the financial markets.  Fear gets people's attention. Yet there's one thing that they never tell you after the fact: buying fear makes money.  If you bought the bottom of the financial panic in 2009, whether it was stocks, real estate, commodities, etc., you made money.  If you bought the panic over the Euro in 2010 you made money.  If you bought the fiscal cliff fear in 2011 in the stock market, or you bought the dip in the dollar as everyone thought it was headed off a cliff in mid-2011, you made money.  If you bought the fear in European stocks in 2012, even the fear in Greece where there were riots in the streets, you made money.  If you bought the fiscal cliff fear at the end of 2012 in U.S. stocks, you made a bunch of money.  There's more than one example each year from 2009 where buying fear and panic in a depressed market made outstanding returns.
How do we translate this into trading opportunities in 2014?  One area that stands out is the commodities complex.  Fear has been present there since 2011 when commodities topped.  The fear snowballed into panic in 2013 in various commodities.  The gold and silver markets panicked in April 2013 and bottomed not long after in June 2013.  There's still a lot of apprehension and fear in these markets even in early 2014.  Yet it's quite possible these markets have bottomed and are heading higher.  Take a look at what is performing strongly so far this year (courtesy of Finviz):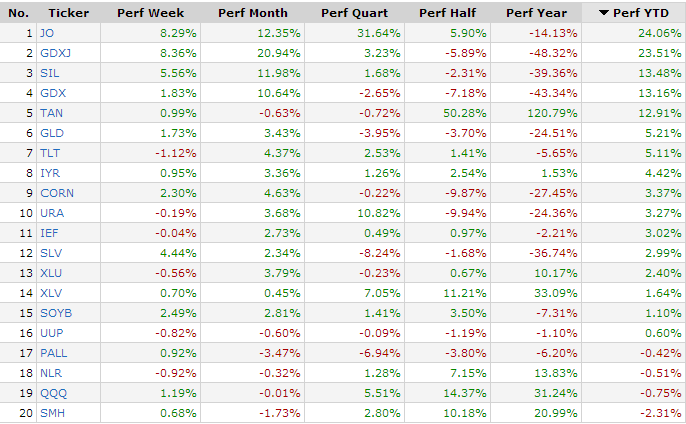 You've got coffee, junior gold miners, silver stocks, and senior gold miners leading the way in 2014.  This is where all the fear was in 2013.  Another example of buying fear and making money is quite possibly happening yet again.
Where else can we look for opportunities in 2014?  Solar stocks have held up so far during this overall stock market correction.  The solar sector was a stellar performer in 2013 after going through a big bear market.  Even though they've had big gains solar stocks are probably still early in a new bull market, and if they continue to hold up as general stocks go through a much needed correction they should outperform.
Emerging markets are where a lot of the fear is currently.  Yet if you look at the Emerging Markets ETF EEM, it has been in a bear market since 2011.  Check out the triangle pattern EEM has formed as has traded sideways in a choppy bear market: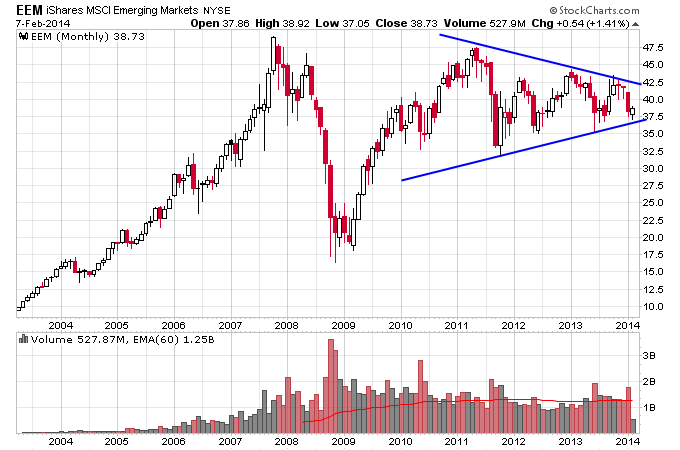 Let's say the fear in Emerging Markets increased over the next few months, and EEM breaks out of this pattern to the downside.  The media will probably jump all over it and pronounce the death of Emerging Markets and tell you to head for the hills and buy developed markets like the U.S.  The problem with that thesis is Emerging Markets are cheap.  After going through a multi-year bear market they've done nothing but get cheaper compared to other markets and present a good buying opportunity whenever they break back into a bull market.  So even if they breakdown here and get crushed, it's just going to be an even better opportunity to buy the fear and make great returns.
Mebane Faber does a lot of good research on market valuations at www.mebfaber.com.  The fact is the U.S. markets were an outlier in 2013, as they were one of the only expensive markets that outperformed.  The cheap markets mostly outperformed the expensive markets.  In 2014 the commodities and emerging markets are cheap, so even if another round of fear pushes them to lower lows, it's just going to set up an opportunity to buy the fear.
Connect with me on Twitter: @nextbigtrade
The original article and much more can be found at: http://www.nextbigtrade.com
The views and opinions expressed are for informational purposes only, and should not be considered as investment advice. Please see the disclaimer.