Last week I bought the breakout in TEAM.  As shown on the chart below TEAM broke out of a multi-month sideways consolidation on above average volume.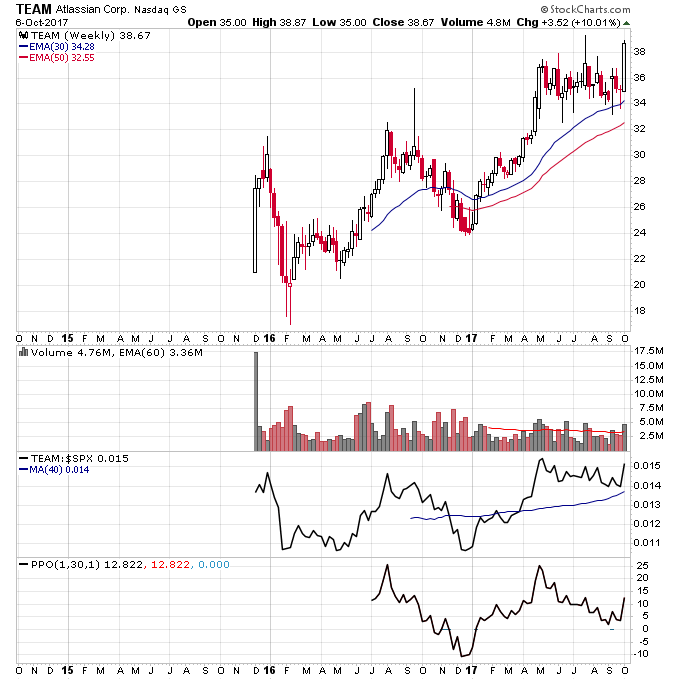 This trade had a great risk reward setup because the trading range support was right at 34 and so is the 30-week moving average.  The stock was less than 15% above this level  if you look at the PPO shown above.  As I discussed previously I look for trades that not only look good technically but have superior risk/reward setups.
This stock checks all the boxes I am looking for:  outperforming the S&P 500, making new all time and 52-week highs (and thus no overhead resistance), in a strong industry group (application software, see the charts of WDAY, TTD), taking above average volume and a good trade setup with well-defined risk.
I didn't take a full position in this stock though even though the risk/reward was good.  Why?  Because they have earnings coming up October 19th.  Earnings can greatly influence a stock both positively or negatively, and since its impossible to predict which direction it's not worth the risk to try.  After earnings I will size up the position depending on how it trades, and obviously if it moves below 34 I'll be out of the position as that is my risk level on this entry.
Which brings me to the other trades I'm tracking currently for this series, DAIO, NVMI, and COHU.  All 3 have earnings coming up in October.  I will likely reduce position sizes in those leading into earnings as well to manage risk.
Position sizing is one topic I might explore more in an upcoming post since it is rarely talked about but is one of the most important aspects of trading successfully.  Most people tend to take too large of positions in stocks, and only reduce size when they are forced to by a declining market.  Or they always remain 100% invested no matter what is going on and never take partial profits in positions that are doing well.  Not being fully invested in the market has a lot of advantages:  it keeps you liquid for new opportunities and reduces risk if market volatility increases.
Checkout my new Stage Analysis Screening Tool at: http://screener.nextbigtrade.com
Checkout my trading videos on Youtube
Twitter: @nextbigtrade
The original article and much more can be found at: http://www.nextbigtrade.com
The views and opinions expressed are for informational purposes only, and should not be considered as investment advice. Please see the disclaimer.