Last week I bought the breakout in INTT.  This is a very similar setup to COHU a few weeks ago.  As I've stated previously I look for entries where the stock is less than 20% above the 30-week MA (which is shown on the chart below on the PPO which measures the percent above the 30-week MA).  Ideally I'd like to buy as close the the 30-week MA as possible.  To accomplish that the best time to buy is either the break above the 30-week MA or a consolidation back to the 30-week MA.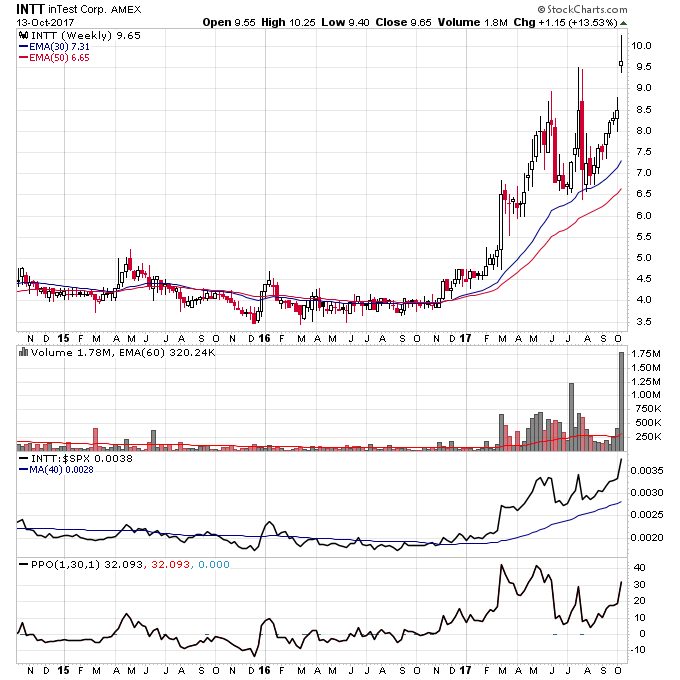 The gap higher in INTT allows me to raise my stop above the 30-week MA (and thus less than 20% of risk, where the current PPO is a little over 30%) and right below the gap which occurred on 5x average volume.  This is because a stock that gaps higher on massive volume is showing a big increase in accumulation at that price level.  And since I only want to be long stocks under accumulation I can now use that price level as a signal to exit the market if things change.
I also took some partial profits (which means I reduced my position size but still hold a position) in stocks that I've mentioned on the RTR (DAIO and NVMI) and stocks that I've mentioned on Twitter (ICHR and YRD).  This is done to reduce risk in case a market correction does materialize, and if it doesn't I can look for setups in other stocks since I have fresh cash to deploy back into the market.
Checkout my new Stage Analysis Screening Tool at: http://screener.nextbigtrade.com
Checkout my trading videos on Youtube
Twitter: @nextbigtrade
The original article and much more can be found at: http://www.nextbigtrade.com
The views and opinions expressed are for informational purposes only, and should not be considered as investment advice. Please see the disclaimer.