What's interesting about the nature of markets is just when one side of the battle between buyers and sellers thinks they have it completely won, they are at their most vulnerable.  Bitcoin has gained over 100% since the start of October on top of an over 900% gain for the year 2017.  Since Bitcoin broke out into a Stage 2 advance in 2015 around $250 it is up over 40x.  Intoxicating gains that everyone is captivated by currently and wishes they could go back in time and capture.
The reality though is the best time to buy Bitcoin was back in 2015 and 2016 when few were talking about it and it was emerging out of a Stage 1 base.  Now everyone is talking about it and greed has taken over and the Stage 2 uptrend has gone into a breathtaking parabola.  Earlier today Bitcoin was more than 130% above it's 30 week MA which is the most overbought it has been since this uptrend began in 2015.  Amazingly this is the third time in the last 6 months the price has stretched more than 100% above the MA, that is exceedingly rare for something with a market cap of over $150 billion.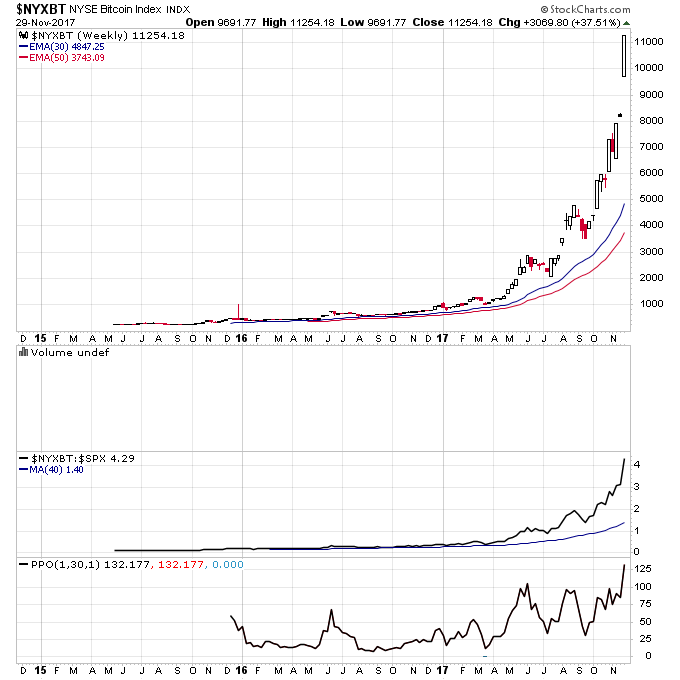 For comparison purposes when Cisco Systems made its final parabolic move into the first quarter of 2001 during the Internet bubble it had a market cap of around $500 billion and only made it to 50% above its 30-week MA.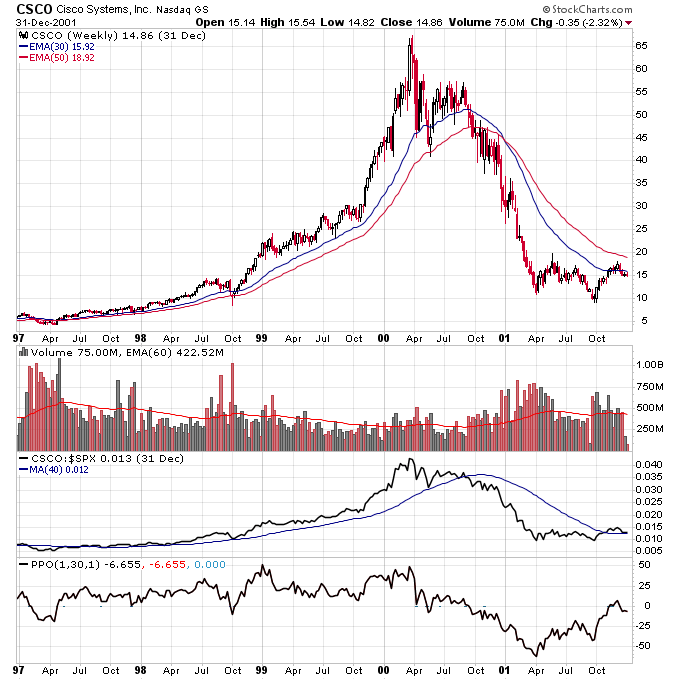 QUALCOMM reached a market cap of $100 billion during the same time period which is more similar to Bitcoin but was only able to get 150% above its 30-week MA, which is close to where Bitcoin is currently.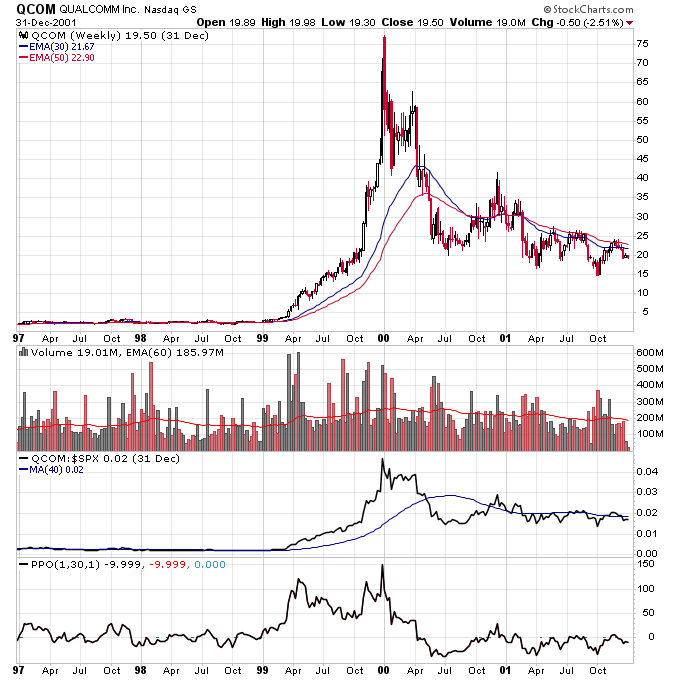 It's impossible to tell where Bitcoin will top, or even if it does move lower from here, whether this area will be "the top".  But it's easy to say Bitcoin is the most overextended since this uptrend began because it is.  And Bitcoin has no price support in the chart  all the way back down to the $3000-$4000 area which is more than a 50% loss from here.
Checkout my new Stage Analysis Screening Tool at: http://screener.nextbigtrade.com
Checkout my trading videos on Youtube
Twitter: @nextbigtrade
The original article and much more can be found at: http://www.nextbigtrade.com
The views and opinions expressed are for informational purposes only, and should not be considered as investment advice. Please see the disclaimer.