Commodities continue to strengthen across the board.  Over 60% of the commodity tracking ETFs below are now in a Stage 1 base or a Stage 2 uptrend.  Precious metals have gold, silver, and platinum all in Stage 1 bases while palladium is in a Stage 2 uptrend.
Stage Analysis
Ticker

Stage

Weeks

SLV
1
2
PPLT
1
2
SOYB
1
2
GCC
1
3
GLD
1
3
OIL
1
3
PALL
2
2
JO
2
2
UGA
2
2
UNG
2
11
CHOC
2
29
NLR
2
43
JJC
4
5
KOL
4
9
SGG
4
14
REMX
4
18
CORN
4
58
WEAT
4
62

Totals

Stage 1
33.4%
Stage 2
33.4%
Stage 3
0.0%
Stage 4
33.4%
Soft commodities have been one of the weaker parts of the commodities complex, but check out what happened to some of the soft commodity tracking ETFs in February.  The corn ETF had a massive increase in volume for the month and has formed a monthly swing low.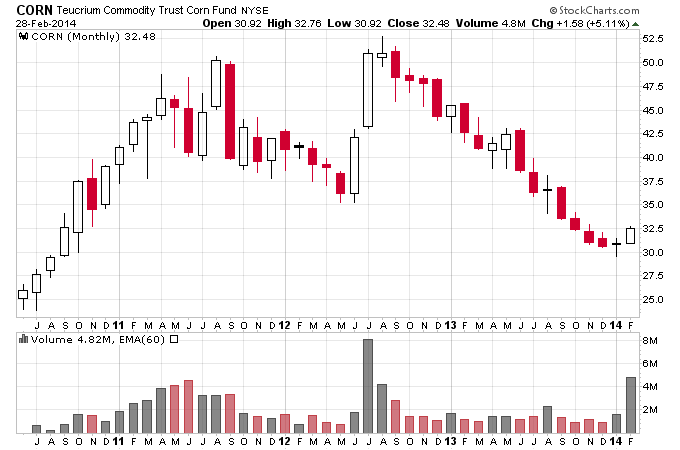 The wheat ETF had its biggest monthly volume ever in February.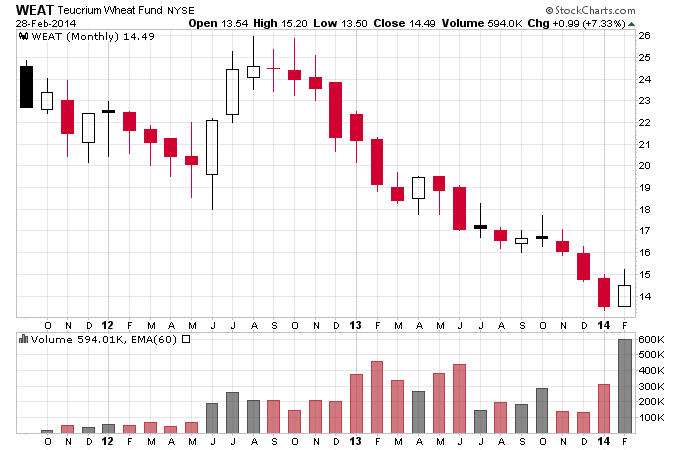 Sugar formed a monthly swing low and also had a big increase in volume.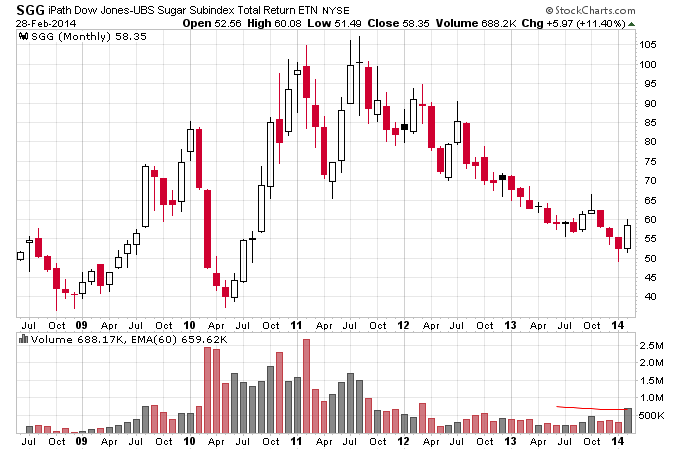 Coffee is one of the hottest markets of 2014.  Coffee has already erased all it's losses of 2013 in 2 months, and has seen a massive increase in volume coming off of the bear market low.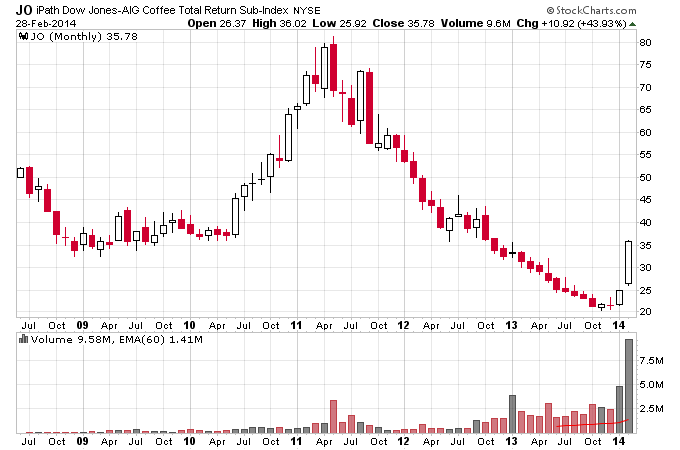 If sugar, corn, and wheat continue to rally in March, almost the entire commodities complex will be in a bull market.  There's still a lot of disinterest in this space as well which is the ideal setup for a new bull market to form.
Connect with me on Twitter: @nextbigtrade
The original article and much more can be found at: http://www.nextbigtrade.com
The views and opinions expressed are for informational purposes only, and should not be considered as investment advice. Please see the disclaimer.